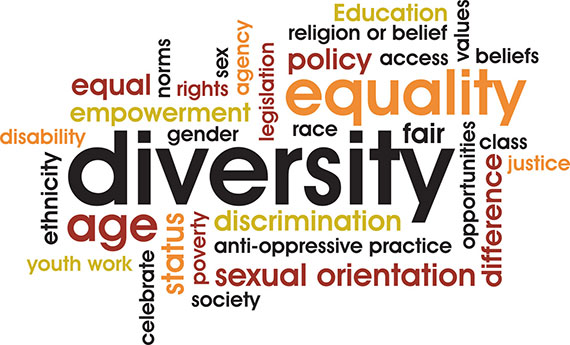 It's nearly a year since The South East of Scotland Transport Partnership was the first public sector body that signed the Chartered Institute for Highways and Transportation (CIHT) Diversity and Inclusion Charter in September 2016. Diversity and Inclusion for us bring new ideas and a greater variety of skills enabling resilience to challenges.
So it's welcome additional benefit that 12 months later our work has been recognised in being shortlisted for 3 categories at the second National Diversity Awards:
Diversity Star Performer 1-250 employees – SEStran
Diversity In The Public Sector – SEStran
Rising Star Diversity Award – Emily Whitters, SEStran (Former)
Over the last year, our equality duties are ever more central to our business planning. We have clear policies on equality and diversity alongside our statutory equality outcomes as an employer and regional transport planning body. Equality, diversity and inclusion are key priorities that are mainstreamed within our new 2017-18 Business Plan and are fundamental principles of all HR policies and procedures which are actively promoted within the organisation, and which seek to promote an inclusive and accessible workplace. However, we wont be resting on our laurels, diversity is only part of the solution, we still need to work and focus on greater inclusion.
We have also voluntarily published our gender pay gap results within our Equalities Mainstreaming report and will seek to improve upon the current gap. Furthermore, by signing up to the Disability Confident Scheme in January 2017, SEStran have made a clear commitment to ensure that disabled people and those with long term health conditions have the opportunity to fulfil their potential. We have also in June 2017 been accredited as a Living Wage Employer.
SEStran recognise that there is a need to make our recruitment process as accessible as possible, in order to attract a diverse range of candidates. To this end, we have consulted with outside organisations such as Equate Scotland, Stonewall Scotland and Changing the Chemistry to review our application process, wording of our policies and wider communications to further our inclusive messaging.
SEStran has also committed to undertake positive action in Summer 2017 to help address the gender imbalance currently in STEM subjects in Scotland by working with Equate Scotland and offering a placement for a female student. Further work on inclusion engagement opportunities was undertaken through our involvement with Young Scot and Sustrans Scotland in the X-Route study, working with a range of young people's groups across the area with different socio-economic profiles to stimulate interest in co-designing transport solutions. In addition to only last month lobbying for inclusion in the Scottish Government's new socio-economic duty to promote a reduction in equalities of outcomes.
We have also delivered projects that seek to tackle inequality, with our Thistle Assistance Card and App, which seeks to increase confidence and ability for all people with disabilities to access public transport. This idea emerged from co-design work with our Equalities Forum and the work has been shortlisted for the 2016 and 2017 Scottish Transport Awards and was runner-up in its category at the CIHT Awards 2017.
Last year we set up a Board Diversity Working Group to address issues of under-representation as far as possible and committing to producing a Board Diversity Succession Plan. We have also agreed to influence the gender balance of our board members through signing the voluntary One Scotland 50/50 pledge and lobbying on the Gender Representation on Public Boards Bill to have Regional Transport Partnerships recognised as a relevant public authority, which they have been when the Bill is published.
SEStran have also appointed a Board Observers from our Equalities Forum whilst also working with Changing the Chemistry to seek a further appointment from under-represented groups. We have also sought to encourage new board members from under-represented groups to present at Public Appointments #ComeonBoard events to seek to encourage further diversity of applications.
In addition SEStran have also joined Stonewall Diversity Champions network who have provided invaluable assistance in our Board Diversity process and the proposed development of a regional hate crime charter and reporting App.
However, whilst a shortlisting for the quality of the team's work is welcome, quality is not an act, it is a habit. Whilst we hope it's a winning habit this year, we are committed to quality actions year after year.