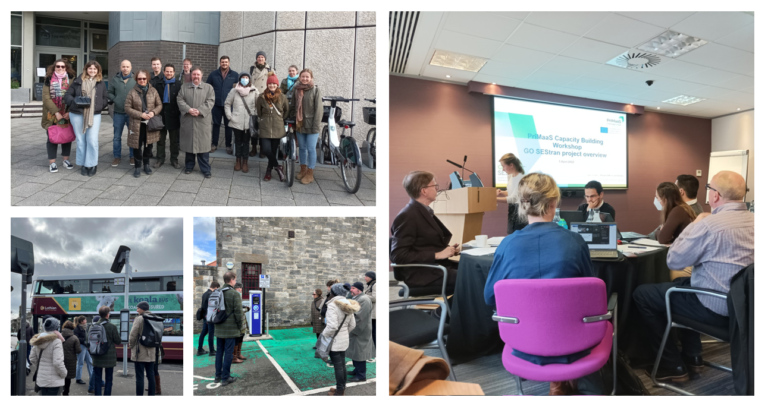 SEStran hosted the PriMaaS Exchange of Experience event in Edinburgh from 4th – 6th April. PriMaaS is funded through ERDF Interreg Europe, and aims to promote Mobility-as-a-Service (MaaS) through policy development. The PriMaaS consortium comprises of 10 partners from 6 European countries, representing transport authorities, universities, municipalities and regional authorities.
On the first day, the Thematic Conference took place at the COSLA Conference Centre in Edinburgh. It was a hybrid event, with speakers doing presentations on MaaS in person and remotely. Fifty people attended the Conference and Colin Reekie from IBI Group was the moderator.
On day 2, SEStran brought the PriMaaS partners together with the GO SEStran project consortium, a MaaS/DRT project which recently secured funding through the Transport Scotland MaaS Investment Fund. The partners participated in a workshop which focused on the barriers and opportunities of implementing MaaS. Coimbra Region gave a presentation on their Demand Responsive Transport (DRT) project. In the afternoon, the partners held an internal project meeting.
On day 3, the partners visited the Brunton Hall Journey Hub in Musselburgh. They met colleagues from East Lothian Council who showed them the various Journey Hub elements around the Brunton Hall theatre.
SEStran would like to thank all the participants for their contributions to a successful event. It was a pleasure to welcome the PriMaaS partners to Edinburgh!
Presentations from the Thematic Conference on 4th April:
1. Transport Scotland_MIF presentation
2. Jorge Bandeira_European Mobility ecosystem
3. Carolina Monteiro – MaaS and Bus Transport
4. Bernardo Campos – Mobility achievements so far
5. Seppo Haataja – MaaS in Tampere
6. Niklas Fisher – Regional Progress in Thuringia
7. Robert Boyer – where is MaaS working
8. Enrico Buzzo MaaS for Genoa
9. Roberto Martinelli_ MaaS in liguria
10. Tjalle Groen_priMaaS-TOMP API
11. Mihai Niculescu – data quality