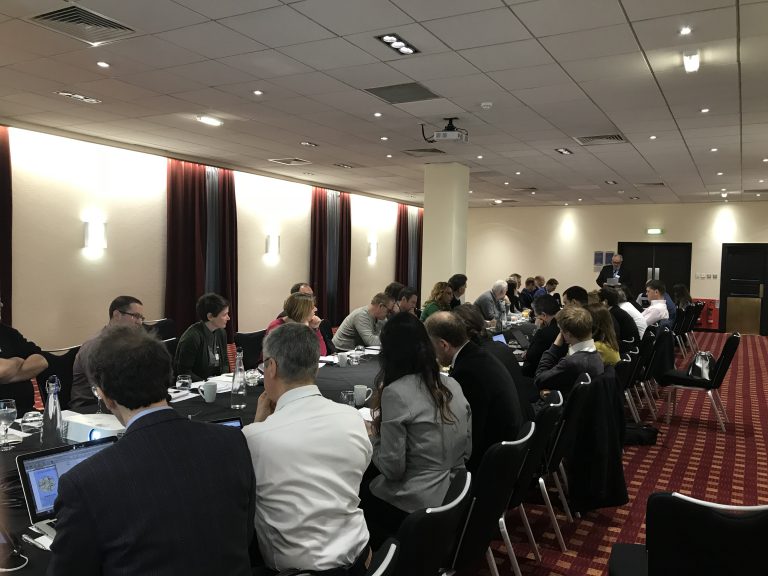 The REGIO MOB Dissemination Event was held in Edinburgh's Old Town on Thursday 22nd March 2018, with approximately 60 attendees. The event was chaired by Councillor Gordon Edgar, Chair of SEStran, who welcomed the delegates to the REGIO MOB event, and highlighted the importance of sharing knowledge and best practice across Europe. Thirteen speakers from the six European project regions presented the challenges facing sustainable mobility in their regions and their plans to deliver best practice projects over the next 2 years of the REGIO MOB project.
Matthew Davis, Partnerships Manager from the cycling charity Sustrans Scotland started the day by presenting the policy landscape for cycling in Scotland, and the challenges for delivery. This was followed by Antonia Roberts, Director of Bike Plus, who presented the plans for SEStran's GO E-Bike regional e-bike sharing scheme, which will be launched on 23rd April 2018.
On behalf of Anci Lazio, Italy, Francesco Iacorossi from the Rome Mobility Services Agency presented the best practices PASTA (Physical Activity Through Sustainable Transport Approaches) and Pums Roma. We were also delighted to hear from City Councillor of Rome for Mobility and Deputy Mayor, Linda Meleo, who presented the sustainable mobility vision for the city of Rome.
On behalf of Prometni Institut, Slovenia, Andrej Zalokar from the Slovenian Cycling Network presented the challenges of developing a national cycling strategy. Miloš Pregl, Head of the Project Unit for the Establishment of a Public Transport Management Company, then presented the Slovenian experience of managing a public transport service.
Following a networking lunch, on behalf of the Region of Western Macedonia, Greece, Dimitrios Tsiamitros, Assistant Professor at the Western Macedonia University of Applied Science presented the integration of new technologies in the public transport sector of Western Macedonia, in relation to their REGIO MOB Action Plan for the next phase of the REGIO MOB project. This was followed by Vasileios Koutsianos, Chairman of the Regional Federation of Disabled of Western Macedonia who delivered his presentation highlighting the importance of Mobility for All Under the Scope of the Regional Action Plan of Western Macedonia.
Elena Mayer from South West Oltenia, Romania, presented the challenges facing public transport in Craiova and their plans for their Action Plan. The event was concluded by Dr inż. Katarzyna Nosal Hoy, Łukasz Franek and Daniel Wrzoszczyk on behalf of the region of Niepolomice, Poland. These final speakers presented the challenges of transport integration in the Krakow region and selected measures of their Regional Action Plan.
SEStran would like to thank all of the speakers and delegates for attending the event. Following this Dissemination Event, the REGIO MOB project will now enter 'Phase 2' and each region will implement their Action Plan to improve sustainable mobility and their related policy instruments in their region. For SEStran, our actions are related to our GO E-Bike project development and the future development of our Regional Transport Strategy.
Find out more about the REGIO MOB Project here: https://www.interregeurope.eu/regio-mob/