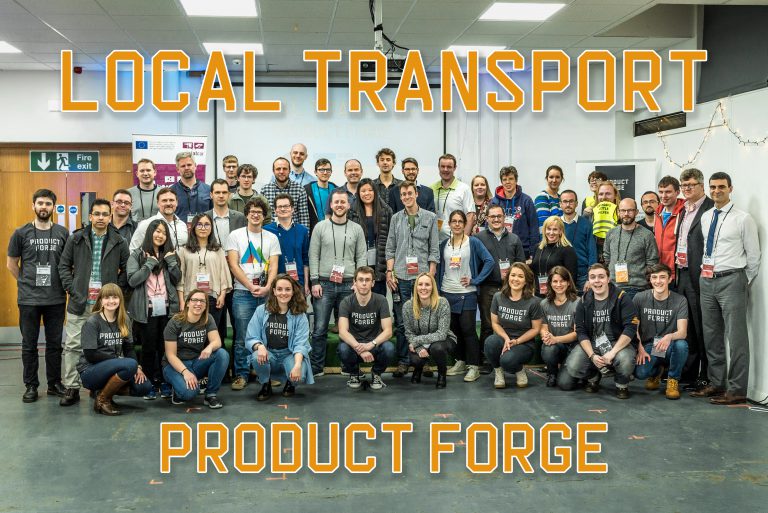 On August 31st, SEStran will host a 'Collider' Event to follow-up on some of the projects identified by the Hackathon teams in Mat this year. Delegates from tech start-ups, innovation experts, transport professionals and potential funders will be invited to hear more about the collaborative projects presented by our Hackathon teams.
SEStran, in collaboration with Product Forge and CodeBase, hosted a Transport 'Hackathon' (marathon of information analysis or hacking marathon) on Thursday 4th May – Sunday 7th May in Edinburgh, as part of SEStran's promotional activities within the 'SocialCar' project.
The event consisted of a room full of entrepreneurially-minded data scientists and analysts, designers, software engineers and transport industry professionals. These participants spent 3 days and 3 nights developing product prototypes to improve transport services within Scotland. Participants from this wide range of backgrounds and skills formed teams to work on a product prototypes with support from industry experts in the transport sector and the wider technology community.
On the final evening, the Hackathon teams were called to present their final project ideas to our judges. Our panel consisted of three industry experts: Alisdair Gunn, Director & Founder at Framewire and Strategic Advisor to Seed Haus; Tobias Tonner, CTO at Urban Tide; and Tracy McKen, Policy Advisor at Transport Scotland.
Each team had 6 minutes to pitch their project followed by a short Q&A with the judges. Team Side and their project 'TransitTalks', an online platform that empowers communities to express their thoughts about local active transport, was announced as the winner of the Local Transport Hackathon.
Highlights and presentations from this event can also be viewed on Product Forge's YouTube Channel and a full summary of the weekend can be viewed here Local Transport PF Impact Report
For more information please contact Lisa Freeman from SEStran at lisa.freeman@sestran.gov.uk