The Forth Valley Bus Alliance (FVBA) has been awarded funding from the Bus Partnership Fund (BPF) to develop a package of STAG reports with recommended options for targeted bus priority measures on five identified corridors in the Falkirk, Clackmannanshire, and Stirling Council areas. The study is being led by Falkirk Council as the lead local authority on behalf of the FVBA and will be supported by SEStran and consultancy partners ATKINS & Anturus.
The STAG reports are planned to inform subsequent applications to BPF seeking funding to produce business cases as appropriate and continue the design development process. BPF is intended to complement the powers in the Transport (Scotland) Act 2019, which enables local authorities to leverage bus service improvements by working in partnership with bus operators towards a Bus Service Improvement Partnership (BSIP). In this context, this work will help develop evidence of how bus services could be improved by addressing congestion and developing bus priority measures that may be part of a BSIP Partnership Scheme.
The study area for the STAG reports is limited to five corridors in the area and is mainly focused on the urban areas of Alloa, Falkirk, and Stirling, as well as the A9 corridor through Camelon and Larbert. At present, bus operations in the study area provide a mix of commuting services for residents, mainly into Stirling and Falkirk, and services dedicated to providing access to key human services for the community – healthcare, education or retail. Key examples of these trip attractors within the study area include the Forth Valley Royal Hospital and the University of Stirling. In addition, there are regular bus services connecting the study area with Edinburgh and Glasgow.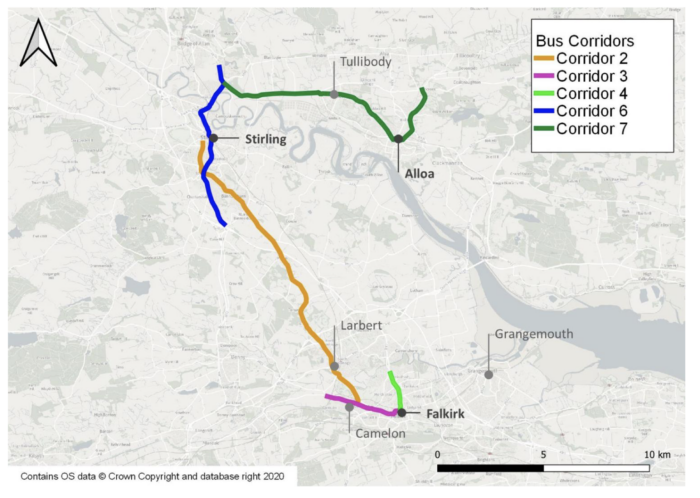 The problems and opportunities being explored build on the fact that the bus journey is wider than the experience of riding a bus from one point to another (see Figure below). It will normally take people a walk or a bike ride to reach the bus stop where they will board the bus. Similarly, people will normally have to cover some distance before they reach their final destination. How users may experience each of these elements of the bus journey has been essential in defining the problems and opportunities and will be central to the development of the next stages of the STAG process.

The first phase of the work has been completed with the Case for Change published.