AECOM has been commissioned by Midlothian Council, in partnership with the regional transport partnership for South East Scotland, SEStran, to conduct a study based on Scottish Transport Appraisal Guidance (STAG) for four bus corridors within Midlothian. The principal objective of the study –which is being funded through Transport Scotland's Bus Partnership Fund (BPF) –is to develop and appraise options to enhance bus priority on each of the corridors to reduce bus journey times and improve bus journey time variability for trips within Midlothian and to neighboring local authorities. Options should also address the decline in bus patronage and consider integration with other sustainable modes. This will be undertaken by means of a focussed, proportionate, and pragmatic STAG appraisal, building on the existing body of work contained in the initial funding application submitted by the Midlothian Bus Alliance to the BPF.
Study Area
The study area encompasses four key bus corridors in Midlothian,as shown below. The corridors traverse many of Midlothian's largest settlements, including Loanhead, Lasswade, Bonnyrigg, Eskbank, Dalkeith, Newtongrange and Gorebridge. The routes operate through a number of key junctions, includingEskbank Road Roundabout, Sheriffhall Roundabout, Eskbank Toll and Gilmerton RoadRoundabout.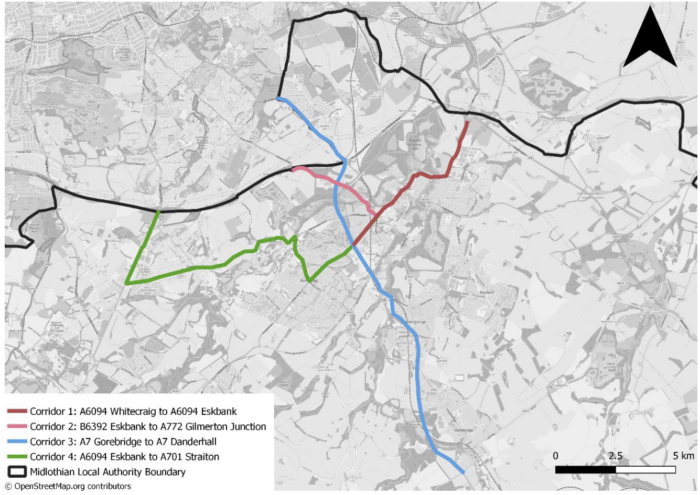 Further information can also be found on the dedicated project portal.