AECOM has been commissioned by Midlothian Council, in partnership with the regional transport partnership for South East Scotland, SEStran, to conduct a study based on Scottish Transport Appraisal Guidance (STAG) for four bus corridors within Midlothian. The principal objective of the study –which is being funded through Transport Scotland's Bus Partnership Fund (BPF) –is to develop and appraise options to enhance bus priority on each of the corridors to reduce bus journey times and improve bus journey time variability for trips within Midlothian and to neighboring local authorities. Options should also address the decline in bus patronage and consider integration with other sustainable modes. This will be undertaken by means of a focussed, proportionate, and pragmatic STAG appraisal, building on the existing body of work contained in the initial funding application submitted by the Midlothian Bus Alliance to the BPF.
Study Area
The study area encompasses four key bus corridors in Midlothian,as shown below. The corridors traverse many of Midlothian's largest settlements, including Loanhead, Lasswade, Bonnyrigg, Eskbank, Dalkeith, Newtongrange and Gorebridge. The routes operate through a number of key junctions, includingEskbank Road Roundabout, Sheriffhall Roundabout, Eskbank Toll and Gilmerton RoadRoundabout.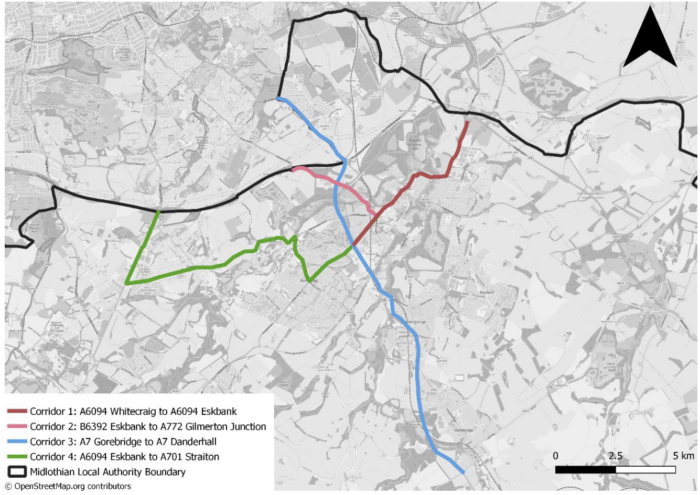 Initial public consultation on the four study corridors took place in Summer 2022, to understand transport-related problems and opportunities for bus priority. Feedback received has been carefully studied, and consultants AECOM have developed a series of options for potential development.
It's now time to present these options to stakeholders and the community, and this will be done through a Virtual Consultation Tool, and at a one-day drop in event, details below.
Virtual Consultation Tool and online survey available until 15th May 2023
A Virtual Consultation Tool is now live (from today), or you can paste this link into your browser: https://midlothianbpf.consultation.ai/
The Virtual Consultation Tool provides information on the Orbital Bus Study corridors, including potential options, and allows the opportunity to give feedback on the proposals.
Feedback can be submitted via the Online Survey which can be accessed directly, from the online consultation tool, or if you need to paste it into your browser, please use this link: https://online1.snapsurveys.com/MidlothianBusStudy
The Consultation tool and online survey are both available online until 11.59pm, Monday 15th May.
Public Drop-In event between 3pm and 7pm, Thursday 4th May, 2023 Outer Space Room, One Dalkeith Centre, Eskdaill Court, EH22 1AG
A public drop-in session has been arranged for any and all members of the public and stakeholders. People are invited to attend this between 3pm and 7pm.
The drop-in session will present the same information as the Online Consultation Tool.