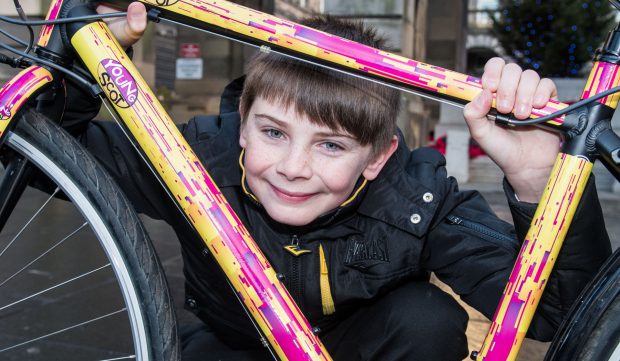 Scotland's local transport networks are the focus of a new youth-led investigation taking place in the Year of Young People 2018.
Over the next nine months – yTravel will see groups of young people investigating the public transport networks, where they run, how they work, how much they cost and how accessible they are. The young people will then develop and prototype ideas to improve local transport and their findings will be shared to shape future policy and services in Scotland.
yTravel is a new project by the South East of Scotland Transport Partnership working with Young Scot – Scotland's national youth information and citizenship charity. The partners are currently looking for youth groups who are interested in getting their young people involved in shaping the future of transport in Scotland to work with Young Scot to co-deliver the project.
Regional Design Teams of fifteen young people will be set-up in four areas of Scotland; The City of Edinburgh, Clackmannanshire, Fife, and Midlothian. These Regional Design Teams will come together to create and develop ideas and recommendations for the South East of Scotland Transport Partnership.
In the new year, a final report will be delivered to regional transport partnerships across Scotland, Transport Scotland, the Scottish Government and public transport companies to shape the future of public transport systems in Scotland.
Youth groups or organisations who work with young people aged 16-25 who are interested in taking part in the project should get in contact with Young Scot for more information. Funding will be made available to support the delivery of this project.
yTravel builds on last year's X-Route report created by young people with the South East of Scotland Transport Partnership to shape and influence sustainable travel services and low-carbon activity.
Minister for Transport and the Islands, Humza Yousaf MSP said:
"The Scottish Government understands the key role that transport plays in connecting young people to education, jobs, and other opportunities. That's why we are working closely with Young Scot and others to engage young people across Scotland in our ongoing National Transport Strategy Review. This review will develop a compelling vision for the kind of transport system we want for Scotland over the next 20 years.
"As technology propels us forward, it is vital we shape our smart public transport services to be fit for modern society needs, and deliver a positive customer experience. It is fitting that in this Year of Young People we provide young people the opportunity to have their say on how our transport system and smart services should adapt and evolve to meet their needs. I look forward to hearing their views as the review progresses."
Councillor Gordon Edgar, Chair of South East of Scotland Transport Partnership said,
"SEStran are delighted to build upon the excellent work that was done in the X Route report and to continue to co-design the transport network in the South East of Scotland during the Year of Young People. Young people have a significant role to play in encouraging organisations and communities to adopt a more collaborative culture. I fully support this approach which will help all of us at the South East of Scotland Transport Partnership deliver on our vision, providing all citizens with a genuine choice of transport which fulfils their needs and provides travel opportunities for work and leisure on a sustainable basis."
Louise Macdonald, Chief Executive of Young Scot said;
"Young people tell us that travel is one of the biggest challenges they face growing up in Scotland today. Affordable and accessible public transport that goes where young people need it to, when they need it to, unlocks all sorts of opportunities and services for young people. yTravel is a great opportunity for young people to work together to create solutions to the issues they face every day and have a real impact on this important topic during the Year of Young People 2018."