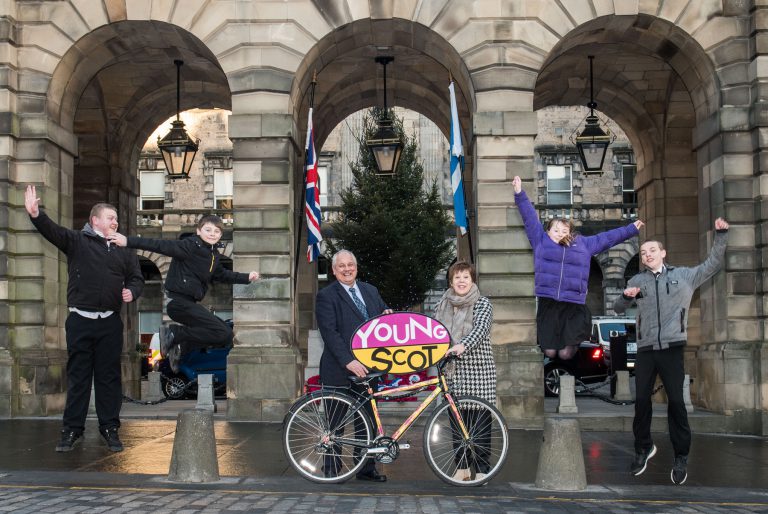 If Scotland is to reduce the number of cars on its roads, young people need be more involved the process and design of transport and active travel projects. An important step, if Scotland is to meet the Scottish government's target for walking and cycling as everyday journeys.
The call was made in a speech by Moira Nelson, Active Travel Strategic Development Officer, for SEStran. Ms Nelson was giving her speech at the Walking Cycling and Connecting Communities 2017 National Conference.
Ms Nelson's presentation focused on the co-design work with young people and Young Scot that led to the SEStran Young Scot X Route report. In her speech, Moira has called for others to take inspiration from the project and work with young people to co-design active travel networks across the country.
Ms Nelson said, "Young people are the commuters of the future, the networks we are developing and implementing now will be used by them to access education, employment, healthcare and services. The need to have a say to develop networks they feel comfortable and safe to use to create habits to last a lifetime. Including young people in design could help to reduce the numbers of cars on our roads in the future."
In her speech Ms Nelson, highlighted 'Star Paths', a project with the Vennie, a youth group working with young people at risk of social exclusion, highlighting one of their excellent recommendations in the X-Route Report. The young people from The Vennie suggested glow in the dark paths would increase the perception of safety on the path network in West Lothian without creating light pollution into the surrounding environment.
"We helped them apply to the Scottish Road Research Board for funding to turn their idea into a project. The sites are in places around Livingston identified by the young people of areas of concern for them and where they felt unsafe." Ms Nelson explained and expanded further; "It's not only Livingston that is benefitting from this work. The Star paths work is also influencing work on the duelling of the A9. A great example of work co-designed and created by young people influencing a strategic transport project for the whole of Scotland."
Funding for 'Star Paths' project comes from Sustrans Scotland, as well as Transport Scotland and Society of Chief Officers of Transportation (SCOTS) via the Scottish Roads Research Board. The pilot is scheduled for completion in August 2017 and it's hoped it will achieve further funding for a further roll out ahead of the Year of Young People 2018. The project has already been shortlisted for an Excellence in Technology and Innovation Award at this year's Scottish Transport Awards.
Louise Macdonald, Chief Executive of Young Scot said, "Confidence is an important factor in young people choosing to use active travel routes. The best way to raise their confidence is to go beyond listening and to co-design solutions with them. The Star Paths project is wonderful example of how of working with young people to solve a problem can create an idea that benefits everyone."
Daisy Narayanan, Sustrans Scotland Deputy Director, Built Environment said: "SEStran's Young Scot X Route Report, highlights the importance of involving young people in the cycle route design process to create paths which make it easier and safer for them to walk and cycle. Community engagement is a vital part of route development and is at the heart of all Sustrans Scotland's programmes. By listening to and working with young people, we can ensure their ideas are heard, and that life-long healthy travel habits are established and encouraged."
For the full text of Moira Nelson's speech please follow this link: 20170614_WCCC_Moira Nelson