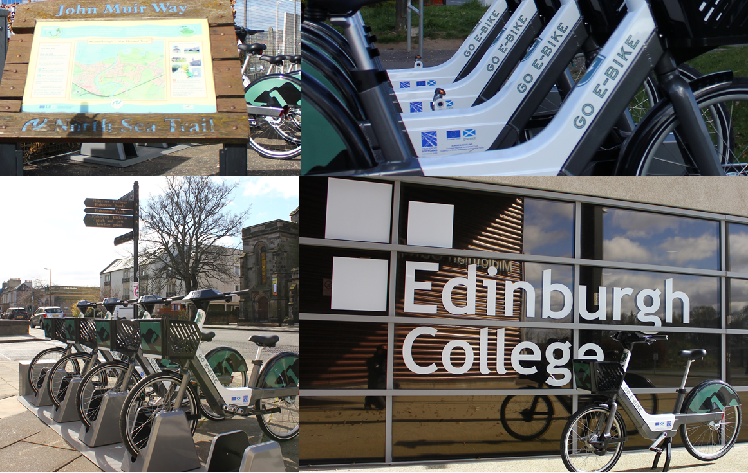 The South East of Scotland Transport Partnership is launching an expansion to its regional e-bike program with the launch of 4 new hubs in East Lothian and Midlothian. The hubs developed alongside East Lothian Council and Midlothian Council, will offer public hire e-bikes to users in Musselburgh, Dalkeith, and Eskbank. The GO e-Bike project was awarded £208,000 funding as part of the Low Carbon Travel and Transport Challenge Fund established by Transport Scotland from funds awarded under European Regional Development Fund 2014- 2020 programme and Transport Scotland funding, where relevant, to enable everyday functional journeys to be taken by walking, cycling and public transport and to support an increased proportion on ultra-low emission vehicles on Scotland's roads.
Gordon Edgar Chair of SEStran says: "SEStran's promotion of active travel as a key component of our Regional Transport Strategy, is helping to work towards the Scottish Government's sustainable travel and climate challenge ambitions. GO e-Bike is a great way to build on our other active travel work, with this new expansion providing more opportunity to introduce more people to pedal-assisted cycling as a viable fun transport choice for work and leisure."
The hubs at Brunton Hall, Musselburgh Train Station, Jarnac Court, and Edinburgh College Eskbank form a small network with state of the art e-Bikes with the aim of increasing usage and awareness of power assisted cycling across the South East of Scotland and beyond. GO e-Bike aims to promote a healthier more active population, reduce inequalities in our communities and improve our environment.
SEStran has partnered with Bewegen Technologies to operate the most advanced bike share system available. The company's robust electric-assist bikes ride like just as easily as regular bike, with no complicated gears or buttons to learn, designed and manufactured in partnership with Rocky Mountain Bikes. Each bike is equipped with front and rear lights, bell, basket, and an electronic display. "Bewegen is proud to be part of the solution in micro-mobility for the East Lothian and Midlothian region. Our bikes are made to make short or longer trips to help users commute between all communities that are part of the system," said Marie-Hélène Houle, Director Communications & IT Development at Bewegen Technologies Inc. "We are proud to be part of this journey and look forward to the success of GO e-Bike!"
Affordable hire options provide costs from £2 for 30mins, with £0.05 for each additional minute, and annual membership costs £65 with unlimited 45mins trips. A range of pay per ride, daily, monthly, or annual membership to the scheme are available online at goebike.uk or through the mobile app.